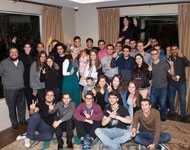 Over 250 students from 16 schools participated in the Chabad on Campus West Coast Shabbaton this past weekend. Coming in from Nevada, Arizona and all over California they met in the Cape Ray Hilton, Carlsbad for a weekend of fun and inspiration.
The Shabbaton featured a full program from Friday afternoon to Sunday morning. Students enjoyed spirited Shabbos meals and many workshops and were treated to lectures and sessions presented by star lecturers and presenters including: MLB agent Paul Cohen, Dr. Tamar Frankiel, Professor Lawrence Schiffman, and Rabbi Shlomo Yaffe.
The focuses of this year's Shabbaton were Jewish pride and Israel Advocacy, which were addressed in many of the sessions including an open forum: "Israel, Why Should I Care and What Can I Do?" with panelists Rabbi Dov Greenberg and David Brog. The students came away with a clear understanding of their role in ensuring the safety of our brethren in the Holy Land.
Mentalist David Winston gave a performance at the Saturday night Mega Event, which was followed by a comedy act by Rabbi Abba Perelmuter, founder and spiritual leader of Shul by the Shore in Long Beach, CA.
Dr. Jacob Eisenbach, the subject of a fascinating book about his experiences during the Holocaust, spoke at the Sunday brunch, closing the weekend with the important message of fusing our past, present and future.
The Shabbaton did not end on Sunday morning for all; it was followed by the annual Sinai Scholars Society Symposium. Students have been preparing for months for this through the Mentor-Protégé Program. The students presented originally researched papers examining the application of Torah and Jewish ethics to a postmodern world.
Composed of experts in the field of Jewish Studies, the academic panel included Rabbi Dr. Lawrence Schiffman, Professor of Judaic Studies at New York University and director of the Global Institute for Advanced Research in Jewish Studies; Rabbi Shlomo Yaffe, Dean of the Institute of American and Talmudic Law in New York, NY; and Dr. Tamar Frankiel, Provost and Professor of Comparative Religion at the Academy for Jewish Religion, California.
The Mentor-Protégé Program provides a unique opportunity for students to work one-on-one with an academic mentor to expand their research and fine-tune their ideas. Finalists then showcase their original research at the Symposium, and debate the academic panelists who provide feedback on their work. Topics ranged from the theological to the practical, suggesting that a growing number of college students are finding personal, intellectual, and moral relevance in Judaism.
The Sinai Scholars Jewish Academic Innovation Award was presented to Shlomit Ovadia, student of California State University, Northridge who prepared a fascinating paper on the topic of The Theological Ramifications of Adam and Eve's Sin, as well as Cameron Isen, student of Dartmouth College, who prepared a paper on the topic of Secular and Sinaitic Wisdom.
Click here to view photo gallery