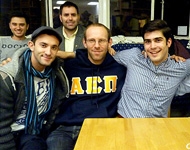 It was the start of the Alpha Epsilon Pi Annual Convention in August 2012, at the spectacular Arizona Biltmore hotel. With a strong, ten-year relationship between AEPi and Chabad on Campus, we are natural partners, joining together for many events. As liaison between Chabad and AEPi, I have attended dozens of these events.
Over the years I have met thousands of AEPi brothers and I am always impressed by the caliber of their members. Memorably, at the 2012 Convention I met someone special who truly stood out to me. I knew instantly that he would be the one to lead a major breakthrough, making history not only for AEPi but for the entire Greek system.
They say when you meet someone for 30 seconds you can truly distinguish exactly who you are dealing with. Such was the moment that I met Marc Cowan, an AEPi Brother all the way from the United Kingdom, a country where fraternities were a foreign concept and never existed before. However here in front of me was an English AEPi brother, who explained how he had recognized the potential of the organization and believed that he could bring AEPi to the UK. His passion and enthusiasm was so infectious, you could truly see he was about to set sail on a venture that would only see future success.
As I recall the moment four years later, my thoughts and hopes have been more than proven right. Due to the hard work and solid determination of Marc and the friends he brought on board, Alpha Epsilon Pi has grown exponentially every year in the UK and with phenomenal success along the way. The challenges that they have continued to work through has led to a fully blossoming organization which now impacts thousands lives and has transformed almost a dozen campuses by bringing opportunities to people who may not have been previously involved in Jewish life.
There are now over 300 people involved within the organization across ten prestigious universities. These include: St Andrews, London, Oxford, Bristol, Warwick, Leeds, Birmingham, Nottingham, Manchester & Liverpool.
Many of the AEPi brothers are involved with their local Chabad on Campus across the UK through Philanthropy, Jewish Identity and many holiday and social events. They have raised over £10,000 for charities and have even facilitated the establishment of several companies, brought about through member networking at their annual events. With a new full time position created at AEPi International Headquarters for a consultant to travel across Europe, we look forward to continued growth in the UK and throughout Europe.
AEPi UK just completed their fourth Annual Conclave in partnership with Chabad on Campus UK and hosted by Chabad of Oxford, with over 200 brothers coming together in one of the largest Shabbatons ever held in the UK.
Chabad on Campus looks forward to the further growth of AEPi UK. The sky is the limit for this organization; I have already met many people who cannot wait to venture to the other side of the pond to witness the phenomena of AEPi UK.
Rabbi Dov Hillel Klein
Director, Tannenbaum Chabad House