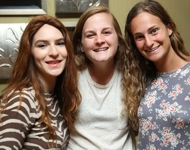 Just as I imagined, jumping from such a spiritual environment at the Sinai Scholars Retreat to such a secular environment at school was not the easiest thing to do. As I headed back into the norm of college life, it dawned on me that I was now surrounded by Jews and non-Jews alike who could not relate to what I had just experienced in the past week. As the college folks say, 'the struggle is real.'
Every summer Sinai Scholars Society hosts a retreat for the participants of the program, which takes place together with the National Jewish Retreat. Jewish leaders and professionals present on topics such as marrying Jewish, music in Judaism, and in-depth Jewish philosophy. As scholars, we are given the opportunity to meet various Jewish philanthropists, among them Mr. George Rohr, who is the pillar behind Sinai Scholars Society and its retreat.
The 11th annual National Jewish Retreat was held in Palm Springs, California where it was as hot as the desert we traveled through centuries ago. Perhaps the main difference was that manna didn't fall from the sky at the retreat, but we were fed extraordinarily—so no complaints there.
Pearleen Lederman, graduate of University of Florida, points out that, "the food was exceptional—a true highlight of the retreat!"
It's fascinating to reflect on how prominent the Jews were so long ago, and how, still today, the future has never looked brighter for the Jewish people.
As the meal began Friday night, all 150 college students, and the campus Rabbis and Rebbetzins entered the grand ballroom singing Shalom Alechim for the hundreds of National Jewish Retreat participants. We were on such a high from our electrifying davening, that the singing never stopped. University of Minnesota student, Sophie Zayden, describes this experience as her highlight of the retreat.
"People were up on chairs, doing conga lines and what not, and the most amazing part: the energy the room had. Some of the JLI members got up to dance and sing, which made my day!"
If 150 college students singing Jewish tunes on a Friday night in California doesn't demonstrate how bright the future is for us, I don't know what does! These students could have been on their phones, in the pool, or even at the nightclub right outside the hotel, but they chose to be dancing on chairs with Shluchim!
Returning Sinai Scholar, David Silverstone, from the University of South Florida describes the effect the retreat had on him.
"The lessons I learned had a great impact on my life, and more so—the friendships I made are lifelong ones."
The experience of being at the Sinai Scholars retreat is what gives me, and so many other college students, the strength to keep engaging in Jewish life. If anything, being back in secular society will only make our Judaism stronger.
Lederman shares that because of the retreat, she is now, "committed to dating Jewish, marrying Jewish, raising a Jewish home, and G-d willing giving back to my children by sending them to a Jewish day school so that they too can learn Aleph and share Aleph."